Products
Our product range includes starters, alternators, water pumps, turbo chargers and circulation pumps. These products are solely remanufactured products, all remanufactured in Germany.
Starters and Alternators
Our starter and alternator program is available for trucks, construction equipment, buses, agricultural and industrial machinery, trucks, classic cars, boat motors, cars. For these products we do not only offer complete remanufacturing but also at request partial maintenance.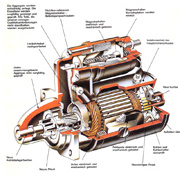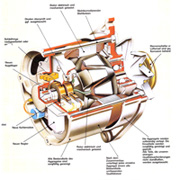 Circulation pumps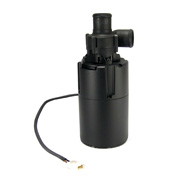 Circulation pumps and blowers for heating systems are available exclusively for buses.
Turbochargers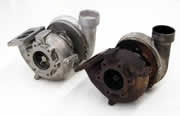 Our turbochargers are also delivered in an exchange program and not only for heavy duty vehicles such as trucks, construction, agricultural and industrial machinery but also for cars. Again, specials on request. The turbochargers are OEM quality. Along with the turbochargers, we also offer the necessary mounting kits as well as oil pipes for the most popular car and truck turbochargers, all in very high availability.
Remanufacturing an automotive part means best quality because it is very much like assembling new parts, except that the components are processed in a different way. It is a process which is close to a manufacturing system.
"Remanufacturing/rebuilding means renovating used vehicle parts ("old units") in accordance with the generally accepted state of the art so that they can perform their function similar to new ones. Remanufacturing/rebuilding regularly consists in dismantling the used aggregate (old unit) into its components, checking these components, repairing defective components or replacing them, replacing missing components, cleaning all components, reassembling the aggregate, readjusting as necessary and submitting it to a final test. The components used for replacement may be new or rebuilt."
The part will be assembled in such a manner that it returns to its original status and that it will perform as before (in certain cases even better). Remanufacturing is a thorough process which consists of many steps which are all checked for quality.
In addition, the remanufacturing of parts contributes to significant impacts on our environment. Through remanufacturing, raw materials and energy are saved, disposal of old parts is avoided, and the air pollution is significantly reduced.
In addition, we maintain and create jobs in Europe!